Qatar Prefab has the capacity to produce Low-Gauge-Steel structures which can be used for residential, commercial, health care, educational and public buildings. Having a comprehensive L.G.S. system, computerized design and production process and machines, along with the trained and experienced staff, enables Qatar Prefab to optimize the finished building in terms of strength, quality, cost, weight and sustainability.
Parallel with the production lines of buildings, Qatar Prefab has production lines for Aluminum components, such as Windows, Doors, Kitchens and Partitions to cover the requirement of components for our buildings and, also to supply to the local market.
Our Carpentry Division concerns mostly with the supply and installation of timber doors with a variety of finishes for villas, offices and other variable purposes. We also furnish our clients, according to their requirements, of timber kitchen cabinets, cupboards, office counters and open shelve cabinets.
ABOUT OUR MACHINES
In the Steel Division, we are equip with the state of the art Robotic, Plasma Processing Machine, Hydraulic Shearing machine which are capable to produce quality finishes of steel works in a short span of operating time – for sheet cutting, blanking & punching reverting, stamping & pressing and other related application were easily completed. Then we also have the Iron Workers Machine, Hydraulic 4 Rolls Plate Bending Machine and Metal band saw Cutting Machine which are helpful to our industrial metal works. For our Carpentry & Joinery Division, we have the C45 Panel Saw Machine – automatic type with 3 motors and Thickness Machine which enable us to work efficiently and provide accuracy in every wooden works that we perform. This is addition to our existing wood work machine which we already used for our previous work requirements.
With these machineries, we satisfy the need of our clients and we're able to meet their expectation. From the time we are still considering to acquire other type of machine which we think will be beneficial to our future company operations.
Various projects are now on-going here in Qatar as part of the great progress and development. In order to catch up and meet the requirements of different clients, we are open to invest in various types of machineries which will help us to improve our system in the fabrication process.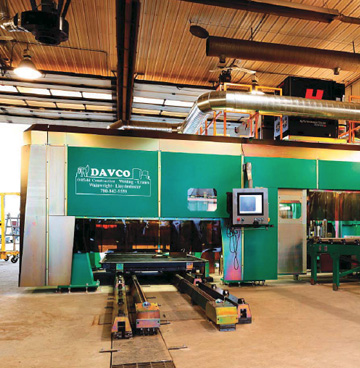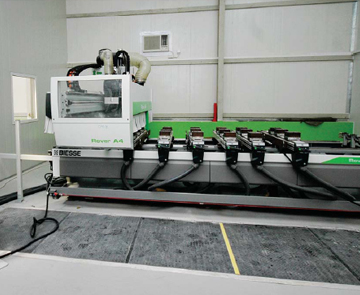 CNC MACHINE ROVER-A SERIES
Rover-A is the compact machining center designed for high performances capable of meeting various levels of production requirements. It's the ideal machine for those who require a flexible & reliable solution.
It has 21 tools boring head, spindles with quick coupling system for fast, easy replacement of bits. Rotation speeds of up to 6000 RPM managed by inverter; multi-functional unit with aggregate for saw blade unit-NC rotation through 360 degrees.
Electronic positioning system (EPS) allows the entire working area to be reconfigured automatically in less than 30 seconds. It position the panel support & carriages using independent drives & therefore without using the operating section. Positioning or panel support & carriages within an area is carried out in marked time, while the machine is working in the opposite area. This machine is ideal to use in machining of core panel doors & it's elements; for furniture components; for straight & arched windows; for kitchen cabinets with shelves and other related woodworks.
FRAMECAD MACHINE F300i
Framecad's heavy duty manufacturing equipment is engineered for fast, high volume production of cold form steel framing with accuracy that is determined by the system, not the skill level of factory workers or on site assemblers.
It allows complete buildings of all kinds to be built rapidly from just one steel profile, maximizing efficiency & reducing waste to less than 1%. All components are produced to an accuracy ensuring the steel framing is precise & the structure can be built 100% to plan. All holes for fasteners & services are pre punched to facilitate quick assembly on site & reduce labor cost.
Framecad F300i is dedicated for manufacturing framing & trusses for a wide range of residential, commercial & multi storey structures. The full range of punching functions allows an entire building to be constructed using a single steel profile. The F300i can produce steel framing for wall panels, roof trusses & roof joists for single or multi storey building up to 8 levels.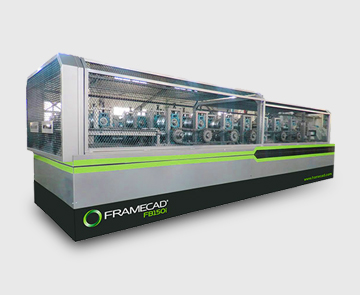 IMS POLICY
Qatar Prefab is committed to provide its client's value added services in fabrication and installation of pre-engineered buildings, steel structure work, carpentry & aluminum. We undertake these in healthy & safe working conditions and ensure continual improvement of management systems performance.
We endeavor to achieve the above by:
Total compliance to the agreed product delivery plan
Meeting clients requirements to their total satisfaction
Ensuring quality of the projects and services undertaken
Preventing occupational ill health and injuries
Ensuring safe work sites.
Complying with statutory & regulatory and other requirements
Motivating employees and improving individual's competency.
The management and all employees of the company contributed their skills and talents to implement, maintain and continually improve the integrated management system based on ISO 9001:2008 and OHSAS 18001:2007 standard.